What is Secure Cloud Backup?
In today's high-tech world with invisible threats all around, ensuring your data is safe is paramount. The threat of data loss has changed from the traditional risk, such as fire or theft, to include those of virus and ransomware. With systems now having to be connected to the internet for almost everything we do – the biggest risk is perhaps that of external attack; Hackers are continually looking for ways to get at your data and their success of recent times is well reported. Putting your backups in the cloud is the first step to protecting your data however, the methodology and where your data resides needs to be considered very carefully.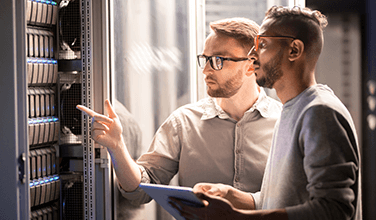 My Cloud Backup, powered by Veeam software, is the market leader in ensuring your data is fully secure – from the very moment of collection, through to how and where it is stored you can be sure your data will remain your data and should you ever need your data, either in whole or part, then My-Cloud-Backup, via it's easy to use web portal will allow fast recovery.
Simple billing model
Peace of mind – pay for what you store – no more.*
Pay only for what you store in multiples of 1TB with no minimums
*Excludes setup costs & licensing.
24/7 support as standard
Web Portal allows the user to have complete control of backup and restore functions – meaning no need to wait on your support provider. However for peace of mind we're available 24/7.
UK based data centres
Tier 3, fully owned and managed by our own full time staff. Guaranteed 100% up time and 365 technical support.
Secure restores
Restoration uses your anti-virus software to scan data prior to placing the restored data onto your systems.
Pricing Calculator
Use the calculator below for indicative pricing.
2
Backup space required (1TB = 1000GB).
Don't worry if you don't know what licences you need just submit the TB you require and we'll advise on licences.
0
Includes Backup & Replication Enterprise + Veeam ONE (No of Licences)
0
Includes Backup & Replication Enterprise + Veeam ONE (No of Licences)
Data collected from Virtual / Physical systems
Secure connection established with My Cloud Backup Host
Data received at DSM's Data Centre and securely stored on Primary Host
Primary Host replicated for added security
Login to Web Portal – from anywhere and at anytime (or give us or you IT partner a call)
Select Data to restore (whole or partial file system)
Choose destination system and hit the restore button
From here My Cloud Backup will establish the connection and begin restoring your data
**Restoration uses your anti-virus software to scan data prior to placing the restored data onto your systems
*Description is a broad guide to functionality
**Configured option
Why My Cloud Backup
Backing up to the cloud can be stormy; The word 'cloud' does not necessarily mean safe, secure or reliable. The 'cloud' could be anything from an old store cupboard to a garden shed and so checks should be made and appropriate advice taken to ensure your Cloud provider has the physical necessities along with reputable platforms to be able, not only to safely and securely store your data but also reliably get it back when you need it.
My Cloud Backup is powered by the market leader Veeam software with the data stored on replicated hardware, housed within our own Tier 3+ Data Centre which includes:
Power Protection
A & B feeds via twin centralised and modula UPS's – backed up by twin generator sets with auto start/stop, guaranteeing that power is never interrupted or lost.
Diverse Connectivity
Separately routed, high speed, fibre trunks with low latency and auto failover, guaranteeing your backup / restore will not time-out.
Security
Systems securely housed in caged areas with electronic access control and IP CCTV, all inside an anonymous building set within a ringed steel perimeter fence.
My Cloud Backup – comes with an easy to use web portal interface, allowing the end-user to take full control of backups and restorations – at anytime and from anywhere. Safe, Secure, Reliable – don't settle for less.
Reseller? Please contact us to discuss how you can become a reseller of My-Cloud-Backup.
Use the form below to signup for a FREE 5TB, 30 Day Trial.